David Champelovier's Homepage at INRIA
Important notice
I left INRIA in January 2008, so this page is probably outdated.
Please consult my personal web page for more accurate information:
www.champelovier.com
About me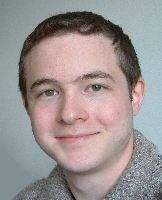 Address:

INRIA Rhône-Alpes
Inovallée
655 avenue de l'Europe
Montbonnot
38334 Saint Ismier cedex
France

Email:

Phone:

+(33) 4 76 61 52 72

Web:
Current position
Since 2002, I am a Software engineer (Ingénieur Expert) in the VASY team at INRIA Rhône-Alpes.
I am working on several software components of the CADP toolbox.
In 2004, I participated to the design and implementation of the new CADP website.
I also help the VASY members with using the computers and software.
Short Curriculum Vitæ
1997

Scientific "Baccalauréat" (French secondary school diploma, equivalent to the A levels). Passed with Very Good.

1997-1999

Intensive undergraduate studies in advanced scientific technologies, mathematics and physics for the competitive entrance exams to the french engineering schools (Lycée Champollion, Grenoble).

1999-2002

Diplôme d'Ingénieur en Informatique, equivalent to a Master's Degree in Computer Science, Ecole Nationale Supérieure d'Informatique et de Mathématiques Appliquées de Grenoble. Emphasis in Software Engineering. Passed with Good.

2002

6 months training period at XRCE (Xerox Research Centre Europe).

Since Sept. 2002

Software engineer at INRIA.
More details are available in my full resume.
Interests
See my personal homepage at www.champelovier.com.
About this page
This page was updated on 2013/05/16 at 14:51, and is W3C-conformant.